St. Charles Uniform Dress Code
Local Department Stores and other retailers have similar products.  All students in grades K-8 must follow the Dress Code of St. Charles School at all times.
Uniform and uniform plaid from Land's End can be ordered by clicking HERE.
Land's End carries our plaid online, code with Land's End is 900037912, link also listed above.
Basic apparel can also be purchased at many local stores. (Examples: Target, Wal-Mart)
SHIRTS, SWEATERS OR FLEECES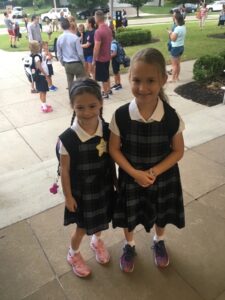 All students may wear plain white or light blue "polo" style shirts, either short or long sleeved. Students may wear polo shirts with the St. Charles logo and can be purchased from Lands End.  Some manufacturers have inserted different style fabrics inside the collar of their shirts, which is fine inside but all shirts must be of a solid color throughout the fabric.
Girls may wear blouses of plain white or light blue cotton or oxford material. They should have plain buttons down the front, and may have round, pointed, or button-down collars.
Boys may wear dress or tailored style shirts of plain white or light blue cotton, oxford material or dry fit. They should have plain buttons down the front, and may have pointed or button-down collars.
Turtlenecks can be worn under uniform shirts, blouses, and long-sleeved polo shirts, or under approved St. Charles sweatshirts or fleece. They may only be worn alone under the uniform jumper.
Students may wear plain navy blue or gray long-sleeved sweaters. The sweater may be cardigan or pullover style, either with a V-neck or crewneck.  Sweaters may be worn over a uniform polo shirt, blouse, shirt or plain white turtleneck.  Sweaters cannot be worn alone.  You can choose to wear plain or have the crest on sweaters. 
Any approved Charles round neck sweatshirt, logo fleece jacket, or logo track jacket and pullover sold by the Spirit Store may be worn over polo shirt. Sweatshirts, fleece jackets and vests cannot be worn alone. No insignias, emblems, decorations, labels, embroidery patterns or designs are permitted, other than the St. Charles Crest.
JUMPERS/SKIRTS/SKORTS
Girls in grades K through 3rd grade wear the uniform jumper made of "St. Charles plaid".
Girls in grades 4th through 8th may wear the skirt made of the "St. Charles plaid".
Girls in ALL grades may wear a navy blue skort. The skorts must be Bermuda shorts length. Hems should be at the top of the knee to just below the knee.
SHORTS/PANTS
Shorts must be plain navy blue tailored with either pleated or plain front. They may be cuffed or uncuffed, and must be hemmed to just above the knee.  Shorts may be worn year round.
Pants are to be of traditional tailored straight leg style, and plain navy blue. Pants may be pleated or flat front, with or without cuffs.
Shorts and pants may not have any decorations or other designs, no grommets, no logos, and no pockets beyond the traditional two in front, with or without watch pocket, and one or two welt-style pockets in back.  Jean style, cargo pockets and painters-styled pants/shorts are prohibited. 
BELTS
For all girls and boys, except those in kindergarten, belts are to be worn at all times.  Belts are to be plain leather, vinyl or cloth.  They may be solid navy blue, solid brown, solid black or St. Charles plaid.  Belts are required for student in grades 1st though 8th grade if wearing shorts or pants with loops.
SOCKS/SHOES
Students must wear socks at all times. Socks may have a small insignia (small nike logo acceptable)
Girls may wear plain, solid navy blue or white knee-high socks or ankle socks. Plain navy blue or white opaque tights may be worn in cold weather.
Boys are to wear plain, solid black, navy blue or white socks. Open toe or open back shoes are not permitted.
Most students wear gym shoes or sneakers with rubber soles. 
SPIRIT DAYS & OUT OF UNIFORM DAYS
The school administration may designate certain days as Spirit Days or Out of Uniform Days.  These days will be printed on your school calendar.  Clear guidelines of what is and is not permitted are outlined in your School Handbook in the "Dress Code" section.
OUTSIDE APPAREL MAY NOT BE WORN IN THE BUILDING
DURING SCHOOL HOURS
This is only a brief outline of that Code.
Details are outlined in the School Handbook that every family should receive. Please check your School Handbook for guidelines concerning hairstyles, make-up, jewelry, etc.
Used Uniform Closet
St. Charles offers our families access to our Used Uniform Closet. We have gently used uniform clothing and accessories available for purchase at a deeply discounted price. All we ask is that when your child outgrows their uniform clothing, please consider donating it to our supply. The used uniform closet is open whenever school is open. Click here to read more about the used uniform closet.
Spirit Wear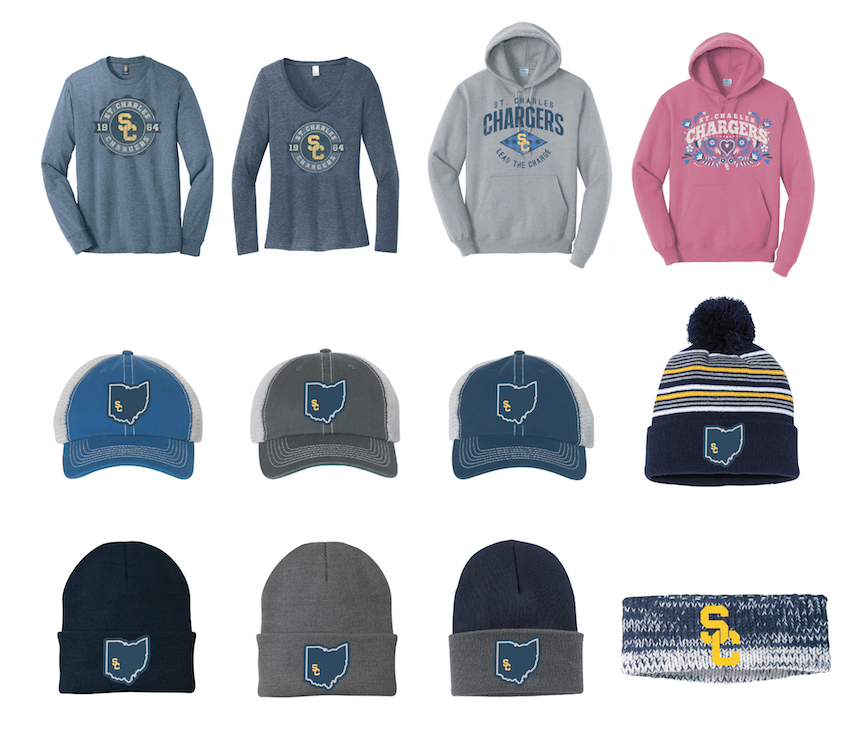 – click the following link to see all the spirit wear and place an order.