Preschool
Private Tours always available.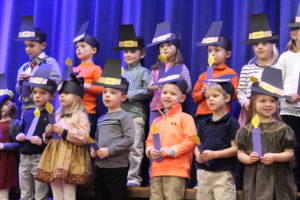 St. Charles offered its first class of preschool the Fall of 2012! We began with one class for 3 year old and a class for 4 year old children. We are give parents a choice of a morning or an afternoon session.It is our hope that each child will maximize his/her physical, social, emotional and intellectual potential. Students will be instilled with the values of respect and responsibility. We ask that all enrolled preschool children be potty trained and self-sufficient in the bathroom.Please click on the Parent tab above for specific cut off dates and detailed registration information. Click on link for brouchure  Preschool 2018 web 2
Curriculum
Students will be introduced to colors, shapes, letters and numbers. They will learn to develop Christian attitudes in sharing, taking turns, listening, helping, loving, thanking and celebrating. They will explore their environment using the five senses with many "hands on" experiences and will develop initiative and creativity through play. For more details on curriculum see Instruction in Early Learning Domains: HMH Big Day for PreK
Catholic Faith
All aspects of their day will focus on love of ourselves and our neighbors. The students will learn simple prayers as well as listen to and discuss Bible stories.
Preschool Tuition Rates 2018-2019
(Cost per 10 Monthly Payments August through May)
(3 year old) Tuesday, Wednesday & Thursday 8:00 a.m. to 11:00 a.m. $181.20 per month ($1,812 per year)
(4 year old) Monday, Tuesday, Wednesday & Thursday 8:00 a.m. to 11:00 a.m. or Noon to 2:50 p.m.: $236.70 per month ($2,367 per year)
We do not offer a multi-child discount for the preschool program.
After Care / Extended Care Options: (Cost per 10 monthly payments August through May)
1 day (Monday or Friday) 8:00 a.m. – 2:50 p.m. is $126.90 ($1,269 per year)
2 days (Monday and Friday) 8:00 a.m. – 2:50 p.m. is $242 ($2,420 per year)
3 days (Tuesday, Wednesday and Thursday) 11:00 a.m. – 2:50 p.m. is $181.20 ($1,812 per year)
4 days (Monday, Tuesday, Wednesday and Thursday) 11:00 a.m. – 2:50 p.m. is $235.60 ($2,356 per year)
5 days (Monday, Tuesday, Wednesday, Thursday and Friday TK Students) 11:00 a.m. – 2:50 p.m. is $295.80 ($2,958 per year