Kindergarten
Open House for grades Preschool through 2nd grades will be held on Monday January 28th from 5-7 pm and Private tours are always available.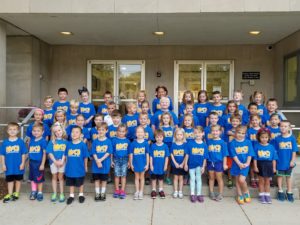 St. Charles School kindergarten provides a healthy foundation for your child's educational success. It provides a friendly environment in which students are encouraged to grow academically, spiritually and socially.
Curriculum
At St. Charles School, all learning is developmentally integrated across many subject areas.
In science, the teachers use the Archdiocese of Cincinnati content standards to plan hands-on, integrated science units that focus on what it means to be scientists and encourage the students to investigate the world around them.
The weekly curriculum also includes music, art, library, physical education, computers and Spanish.
In math, the students focus on numbers, patterns and applying mathematical concepts. Each chapter is paired with math manipulatives which allow the student explore math through hands on experiences.
All kindergarten classes join together weekly to enhance learning through song and movement.
Catholic Faith
Faith is integrated into all aspects of the day. Faith provides the strong structure in which students can prosper in all other areas. Kindergarten attends Mass weekly and sits with their fourth grade buddies.
Mrs. Kristin Wisniewski
email Mrs. Wisniewski
Ms. Jennifer Marzluff
email Ms. Marzluff
Mrs. Darcy Rodman
email Mrs. Rodman