Fifth Grade
Click here for our Virtual tour!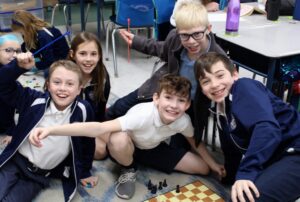 St. Charles School School creates a world of learning that emphasizes development in the Catholic Faith, academic excellence and diverse co-curricular and extra-curricular activities. The way in which St. Charles School meets the individual needs of your child is unlike any other.
Curriculum
At St. Charles School, your fifth grade student will receive superior academic instruction that touches the mind, body and spirit.
In math, the focus is on helping our students become fluent in math vocabulary and reflect on math patterns and processes. Fifth grade math engages the students as reflective and confident problem solvers, with hands-on projects and cross-curricular activities.
In social studies, students explore maps, the geography of Canada, Central and South America, explorers and early colonies in the Americas.
In science, students study technology, space, personal health, life science, and energy. We get to participate in the science fair.  There are numerous hands-on activities to further explore the concepts.
In reading, we read a novel every quarter learning about plot, figurative language, author's purpose, and many more reading skills.  We work with short stories of fiction and non-fiction  throughout the year as well.
In English, we work on grammar skills. We also focus on writing techniques such as perspective, descriptive writing, chronological order, and more.  Each quarter, we also publish a writing project written in cursive.
Our weekly curriculum also includes art, music, computers, library, physical education and Spanish.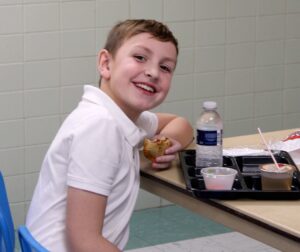 Catholic Faith
Students in fifth grade will learn about each of the Seven Sacraments, the roots of each sacrament in Scripture, and the way each is celebrated in the Church today.  Fifth graders will also study the symbols and rituals used in the celebration of each of the sacraments.  They will learn that in each sacrament we encounter Jesus Christ and receive the grace to do what is right.  Students will deepen their experience of prayer and learn about Catholic devotions and the use of sacramentals.  They will learn to participate more fully in the Mass and to go forth from Mass to serve the needs in their families and communities. Lastly, our fifth graders will learn to love and serve as Jesus did.
Mrs. Debbie Waker
email Mrs. Waker
Mrs. Katy Bundy
email Mrs. Bundy