Volunteer Opportunities at St. Charles School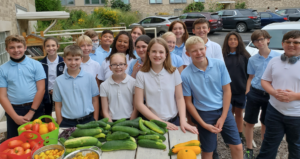 Volunteering to help with school activities is a great way to enhance your family's experience at St. Charles School. St. Charles School serves the needs of our community through the spirit of team-work and living our Catholic Faith. Our inviting community enables all students to realize their fullest human potential. We form a partnership with our families and assist them in their loving efforts to educate and celebrate the whole child. Please consider giving of your time and talents! We have opportunities for everyone—either one-time activities or monthly projects for both moms and dads.
SafeParish
Registering To Volunteer- Keep Our Children Safe
SafeParish account registration is now open for all volunteers. Registration and qualification are required before volunteering around children at any location in the diocese. School starts in less than 3 weeks – please don't wait until the last minute to create your SafePariish account and become qualified to be a parish volunteer around children. Click on the link below for a list of approved volunteers:
To register for a SafeParish account:
You will be prompted for a Passcode / Organization code – that code is protectcincy
The next screen will ask you about your volunteer location. Choose St. Charles Borromeo Parish – Kettering from the dropdown list.
You will also be asked for your role. Most people will select the box next to "Volunteer." When you select "Volunteer" another box will pop up where you will further define your role. Most people will choose "Parish Volunteer" or "School Volunteer."
Select Next
The next screen will ask you personally-identifying information that will be used in your background check and to retrieve information from Virtus (if applicable).
If you are a new volunteer, you will be required to have an online background check and complete an online training class before you can volunteer. There is a $25 fee to complete the background check. Please contact the parish business office at (937) 434-6081 if you would like a prepaid background check token. You do not have to pay for the background check. 
Thank you for all that you do in helping create a safe environment for our children!
Steve Morris, Business Manager
(937) 401-0521