Volunteer Opportunities at St. Charles School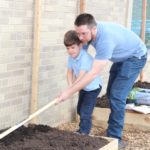 Volunteering to help with school activities is a great way to enhance your family's experience at St. Charles School. St. Charles School serves the needs of our community through the spirit of team-work and living our Catholic Faith. Our inviting community enables all students to realize their fullest human potential. We form a partnership with our families and assist them in their loving efforts to educate and celebrate the whole child. Please consider giving of your time and talents! We have opportunities for everyone—either one-time activities or monthly projects for both moms and dads.
VIRTUS
New Child Protection Program:
All people who intend to work or volunteer in any of the Archdiocese of Cincinnati parishes, schools, or institutions, must attend a VIRTUS® Child Awareness Session for the Decree on Child Protection before you are approved to work with children.
Effective June 18, 2012, the Archdiocese of Cincinnati has substantially changed the way it conducts training for its Decree on Child Protection. All training sessions on the Decree will now be known as VIRTUS® Child Awareness Sessions. Each Child Awareness Session will last 3 – 4 hours. No one under the age of 18 will be allowed in the sessions.
The Decree on Child Protection has been updated beginning July 1, 2013.
This update immediately impacts all of us who work and volunteer with children.
The Decree must be followed fully!
Here is a link to the Decree in PDF format:
Click here for the Decree
A special note for all coaches:
Rosters must be turned in to the parish office for Fr. Dan's signature a week in advance!
This is due to the requirement for us to check all the names included in the paperwork, and have Fr. Dan sign after the names have been verified.
NOTE:
Those new volunteers who need training must attend the new Virtus training. You may register at www.virtus.org to attend a Child Protection Awareness Session. Select "Registration" on the left side of the screen. From there you can "View a list of sessions", and follow the onscreen prompts to register for a session.
Per Archdiocesan mandate, no late arrivals will be admitted. No children under the age of 18 years and not yet graduated from high school will be admitted. You must be present for the entire session or you will be asked to attend another training session. A minimum of 8 attendees required for this session to occur.
Any new volunteers who need training must attend the new VIRTUS training.