After School Care at St. Charles
St. Charles School Extended Care is offered to students who attend St. Charles in grades preschool to 6th grade.
We would like to create a safe, comfortable and familiar environment to help working parents and assist students with homework and provide enrichment activities, exercise and a healthy snack.
Parents have requested this program for years. Due to our limited space within our school and resources to run the program, we have had to patiently wait for the right time.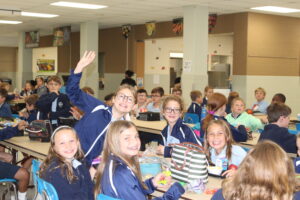 Details and Plans:• Extended Care will be offered Monday through Friday from dismissal, 2:50 till 6pm.

• A flat rate of $14 a day will be the cost for three hours of extended care.

• A minimum commitment of 2 days a week is required.

• Monthly payments will be billed through our FACTS program.

• Late fee of $10 for the five minutes late, followed by $10 fee for every five minutes late.

Location of program:Cafeteria, Gym and Playgrounds
Staffing• Linsey Columbe will be the extended care director.

• Additional staffing will be decided once numbers are finalized for proper ratio. Kennedy Lambert and Audrey Lombard are current Alter students helping with the program