What We Do
Lenten Almsgiving Project
Our suggested Lenten almsgiving charities for this year are the Sweet Cheeks Diaper Bank and St. Vincent de Paul Housing Assistance. While almsgiving is often simply "writing a check," we may also take the opportunity to learn about the great work being done by the charity and how we become part of that with our donations.
Sweet Cheeks Diaper Bank
What Is Sweet Cheeks and What Is Its History?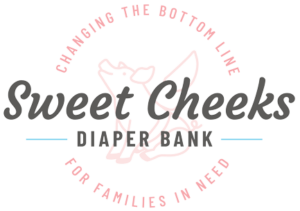 In 2014 Megan Fischer was an expectant mother with a toddler at home and working full time. She happened to come across a Facebook article about a diaper bank somewhere in the West. She had had no idea diapers (and other basic hygiene items) weren't covered by government assistance so families living below the poverty level often had to choose between food and other basic necessities such as diapers. Parents were forced to leave their babies in soiled diapers, sometimes for days at a time. This led to diaper rash, staph and urinary infections. When parents ran out of diapers, they were forced to withdraw their children from child care. Without proper childcare, parents could not work to support their families and could not afford the schooling that would help them provide a firm economic base for their family. Thus, a vicious cycle. At that time, Cincinnati had the fourth highest childhood poverty rate in the country, but there was nothing in Cincinnati to address this problem. In October, 2015, Megan decided she had a calling she could not resist: to start such a diaper bank for the Cincinnati area. Megan left her job in text book publishing and became the Founder and CEO of Sweet Cheeks. She and an associate spent six months building their brand, website and processes. They distributed their first diapers in April, 2016, to three partner agencies that served low income families. She now has a support staff, hundreds of volunteers, and an office and warehouse located on the west side of downtown Cincinnati. Families pick up diapers at the partner agencies rather than the Sweet Cheeks facility so that they can receive other resources and training they need to get out of poverty.
Since 2016, Sweet Cheeks has distributed more than 2.3 million diapers! Visit sweetcheeksdiaperbank.org to learn more.
St. Vincent de Paul Housing Assistance
We are designating our donations to St. Vincent de Paul to be used for housing assistance in Montgomery County, primarily for rent and utilities, and for the emergency homeless shelter.
Rent and Utilities
Here are a few stories of the hundreds of individuals already assisted:
Brooke faced an electric disconnection after being unable to pay the bill for several months. As the caretaker for her mother who is an amputee and wheelchair bound, Brooke needed help keeping the electric on.

Allie can no longer work full-time with her five children home from school due to COVID, so she is delivering Walmart groceries when someone can babysit her children. Allie received assistance to address the loss of income which made it difficult to pay the rent.

Carl's loss of customers for his cleaning business caused him to fall behind on his water bill. As he is rebuilding his customer base, he needed a couple of hundred dollars to get on a utility payment plan.

Susan's pay is based on sales commission and her income fell dramatically during the economic downturn. Susan received assistance to meet her shortage in her rent payment.

Bobbie

was in the hospital for three weeks, due to COVID complications and returned home to find his heat had been disconnected. Bobbie received financial assistance to get reconnected and pay his first bill

.
Emergency Homeless Shelter
The following are a few stories from the many who have been helped by the homeless shelter:
Elizabeth: A New Start During the Pandemic
Elizabeth lived in her apartment for twelve years but, in June 2020, her building was condemned. At the height of the COVID-19 pandemic in Dayton, she became homeless.  Afraid and alone, with nowhere else to go, 60-year-old Elizabeth came to St. Vincent's Shelter.  "When I first found out we were being kicked out of the building, I didn't know what was going to happen next.  I was in shock and I couldn't stop crying," said Elizabeth.

The pandemic has brought challenges to all of us.  Perhaps you have been personally affected by this disease or know someone who has. At the least, you are likely becoming accustomed to routines that reduce infection. For many of our neighbors who are living paycheck to paycheck, "the new normal" means lost jobs, difficulty paying rent and utility bills, and a sudden fall into homelessness.

When St. Vincent cannot help someone from losing their home, we are here–with your help–to provide love and care until our neighbors can get back on their feet and move into a new home.  Your financial assistance then helps our neighborhood volunteers get them started again with their bills, with food from our neighborhood pantries, and furniture and clothing to replace what was lost. Thank you for your assistance that means you are on "the front line" in our neighborhoods, providing hope through your love and support!

Gene

Watch this video of Gene's story. He shares how he became homeless after years of substance abuse, and finally found a firm footing at St. Vincent, enabling Gene to make a new start.

To watch, click here: https://stvincentdayton.org/gene/

Trombone Larry

Watch this video of Larry's story. He shares how he became homeless and found assistance and a sense of family at St. Vincent. For many of our neighbors, homelessness is "only one paycheck away".

To watch, click here: https://stvincentdayton.org/larry

Ricardo

Watch this video of Ricardo's story. He shares how he finally found a firm footing at St. Vincent, enabling Ricardo to make a new start with a new career and a new home.

To watch, click here: https://stvincentdayton.org/ricardo
Kettering Summer Lunch Program
At the Oak Creek apartments in Kettering, lunches are served during the summer to children who normally participate in their school's free lunch program during the school year. Our Social Action Committee and Youth Ministry are responsible for providing and serving lunches for one week each summer. Around 45 lunches are served each day.
Sustainability
Through the efforts of our Sustainability subcommittee, the Archdiocese of Cincinnati awarded St. Charles the designation of "Laudato Si' Parish," living out Pope Francis' message of caring for God's creation. Our current focus is on reducing plastic pollution.
Giving Tree
The Giving Tree is an annual Advent project to collect Christmas gifts for several local charities.
Fair Trade Sale
Fair Trade helps producers in developing countries achieve better trading conditions. Every December, there is a local Fair Trade Sale at the University of Dayton's River Campus. We have been responsible for the setup and sale of household items.
Food Barrels
We are responsible for the food barrels at the doors of our church. One of our members coordinates the volunteers who deliver the donated items to the Catholic Social Services food pantry on a weekly basis.
Weavers of Justice
We are members of the Weavers of Justice, a group of Dayton-area parishes and Catholic organizations who work together on social justice issues, receiving staff support from the Archdiocese Social Action Office. The Fair Trade Sale and Distinguished Speaker program are examples of Weavers' activities that we support.
SPUR and LIGHT
We provide articles for the St. Charles weekly bulletin and quarterly newsletter to educate and engage parishioners on our activities and social justice issues in general.
Transportation for Ignation Retreats
We transport people who have experienced homelessness to and from retreats at Bergamo.
Thrive Together Dinners
Thrive Together (formerly known as Circles) helps individuals break out of the cycle of poverty. We coordinate six St. Charles-sponsored meals throughout the year, two of which are served by our Social Action Committee.
Hispanic Ministry
We are pursuing more interaction with the Hispanic community, starting with St. Charles' and St. Mary's youth groups, and in conjunction with Archdiocesan ministries.
Presentations and Events
Attend social-action-related presentations and events, following up as appropriate.
Outreach Committee
We meet with other St. Charles Outreach ministries on a regular basis to share information, look for opportunities to collaborate and report significant activities to Parish Council.
Diakonia Steering Committee
We provide a representative to serve on the Diakonia Steering Committee to help oversee the management and uses of the Diakonia fund.
Homicide Prayer Vigils
Attend prayer vigils at the sites of homicides in Dayton.
Peace Pole
We have re-introduced the Peace Pole to our parishioners and plan to continue providing awareness and maintenance.
Prayer Ministry
Provide an opportunity to pray for social action issues to those who may not be able to actively participate.
Other Activities
Our committee may also pursue or assist with other opportunities as they arise. A recent example is tornado relief:
We helped identify local agencies and parishes chosen to receive distributions from the St. Charles Tornado Relief Fund.
Food barrel volunteers personally donated $500 to Debbie Pendleton, manager of Catholic Social Services' food pantry, who is also a tornado survivor.
We volunteered at the Edwin C. Moses St. Vincent de Paul warehouse to sort clothing and shoe donations for distribution to tornado survivors.
Vision Statement
It is the vision of the Social Action Committee that the principles of Catholic social teaching be integrated into every aspect of our parish. This vision includes providing opportunities for parishioners to serve in the areas of charity and outreach, advocacy, community organizing and solidarity.
We meet the first Thursday of every month, except for July and August. Contact Gene Hartman for more information.