On Sunday Dec 20th grab a hot drink, hop in the car, and come visit our drive-thru experience of the road to Bethlehem! Drive through our campus and take in the wonder of the lights and live scenes as you make your way through the town of Bethlehem towards the long awaited Nativity. Don't forget to keep your eye out for St. Nick…and his candy canes! Our school classrooms are also working on a special project for you to look for along the way.
Check out the route ahead of time and please note that you will only be able to enter the event by making a RIGHT TURN into the Walsh Hall entrance from Ackerman Blvd.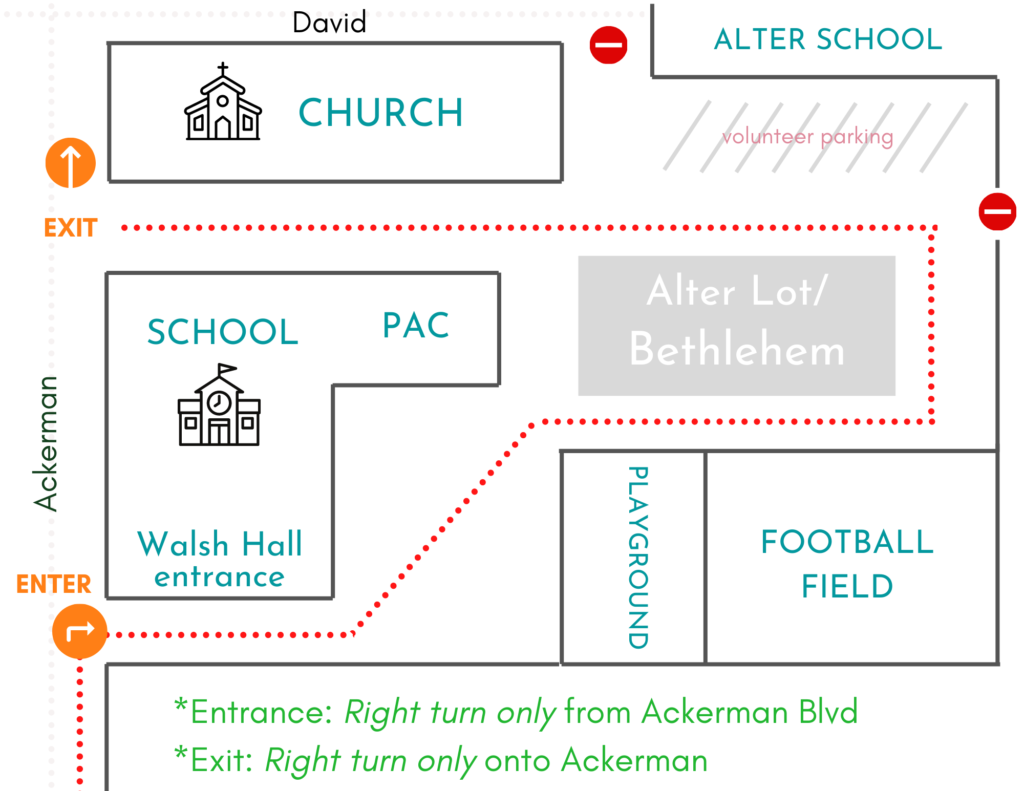 *Our shepherds will open the gate promptly at 6pm, so in order to be courteous to our neighbors on Ackerman Blvd, please do not line up prior to our start. The event will be open from 6-8pm!
---
Volunteer & Support Opportunities
This event warrants a large community effort! If you are willing to help with set-up, supplies, or as support personnel during the event, please check out the details below for our volunteer opportunities.
LIGHTS AND SCENE SET-UP Enjoy decorating with lights or have some fun, creative ideas for transforming our campus? We would love for your family or group to take ownership of a small section of the drive-thru route! You can see each of those sections described in more detail in our Nativity Lights Support Crew Sign up Genius (CLICK HERE)
In an effort to be resourceful and budget conscious, we appreciate any lights or props that your group can bring to use in decorating your respective section. We have additional lights and props to allocate throughout the route. If you have an idea for a section but aren't sure about all the supplies or details, just let us know and we can work out a plan!
We have a set-up window of 11am-5pm on Saturday Dec 19th for all lights and decorations OFF the parking lot. This is basically for all the community set-up areas along the sides of the route, excluding our town of Bethlehem. You can drop in anytime during that time frame to decorate your area. We'll be doing a trial run with all the lights at 5pm to address any electrical issues and to ensure we don't Clark Griswold the place!
Our town of Bethlehem set up consists of 8 booths and will need to be set up on the Alter parking lot between 1-4pm on Dec 20th. No experience or supplies necessary for this one, just extra hands to help set up the town!
Lights take-down is Dec 21st from 9am-12pm. If you have any conflicts with the set-up or take-down time, just let us know and we can arrange another time.
---
SUPPORT PERSONNEL We'll need several hands on deck to assist with traffic flow and to supervise the various zones along our route. If you're able to bundle up and help us the night of the event, we would greatly appreciate it! We'll also have several floater positions to allow for breaks to warm up inside if needed.
Following the event we also need to take-down our city of Bethlehem and clear the parking lot. We'll need a small crew to help get this done quickly. All support personnel volunteer slots can be found on our Support Personnel Signup Genius (CLICK HERE).
*If you're in 6th grade or older and interested in filling an actor role for one of our live scenes, check out our Signup Genius for Actors (CLICK HERE)
---
NEEDED ITEMS If you're not able to support in the above positions but would still like to help, we are in need of a few specific items from Dec 19th-20th as part of our set up. Any donated items on loan for the night that need to be returned should be clearly labeled and will be returned ASAP. Please contact Deme Crinion at dcrinion@stcharles-kettering.org or 937-401-0021 if you're able to help by contributing any of the following:
–Pop-up canopy tents (we need 12 total)
–Tarps (12 total needed)
–Portable generators (5-6 needed)
–Hay for our town of Bethlehem and Nativity scene
–Long outdoor extension cords
–Light up decorations (large stars, realistic animals for the church lawn area, etc)
–Oversized classic decor and large outdoor tree ornaments
–LIGHTS!
*This list will be updated to reflect current needs!
---
Thank you in advance for your time and generosity in making this a wonderful event for our community this holiday season! We can't wait to see you on Dec 20th!
Volunteer Sign up for Lights and Scene set-up: CLICK HERE
Volunteer Sign up for Support Personnel: CLICK HERE
Volunteer Sign up for Live Actors: CLICK HERE
Contact for this event is Deme Crinion at dcrinion@stcharles-kettering.org or 937-401-0021