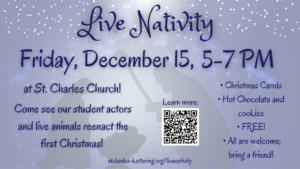 Our beloved Nativity event is back….including the live animals and the cookies! Visit Mary, Joseph and baby Jesus at the manger (with the donkey, goats, and llama!), help the wisemen find their way, hear from the Angels who delivered the message that the Savior was born, and check in on the Shepherds and their live sheep! Then warm up in the Church with cookies & our hot cocoa bar, while enjoying carols.
So, mark your calendars for Sunday, December 15 from 5-7 p.m.—we can't wait to see you!
---
Volunteer & Support Opportunities
This event warrants a large community effort! Please check out the details below to see where you might be able to lend a hand!
COOKIE DONATIONS
Not only do the live animals, characters and lights draw in a crowd, so do the treats! We need lots of help from your kitchens! We are aiming for at total of 1,200 cookies to serve with our hot cocoa! If you're willing to bake (or provide) 2 dozen cookies to help support us, please contact Sarah Archuleta at 937-434-9272 or sarchuleta@stcharles-kettering.org
CHARACTER ACTORS .
We are in need of actors for our live scene! So you will be talking and interacting with people. If you are in grades 6-12, let us know if you'd like to be considered!
ADDITIONAL SUPPORT .
We do have a few areas where we could use some additional help!
HIGH SCHOOL VOLUNTEERS
If you are a high school student, we would love to have your help! We're happy to sign off on service hours for your time.
Thank you in advance for your time and generosity in making this a wonderful event for our community this holiday season! We can't wait to see you on Dec 15!
Contact for this event is Sarah Archuleta at sarchuleta@stcharles-kettering.org or 937-434-6081 ext 1310.