Reprinted with permission from Virtus.org
Summer in the Park
Recently, my daughter, her husband and children were visiting and the 10-year old wanted to go to a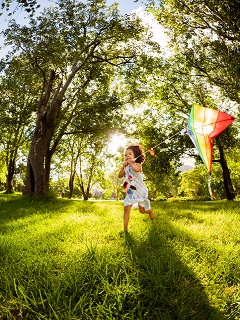 local park to play. As we all know, letting young children run and play and wear themselves out is a very good thing, for the grown-ups at least. So, off we all went to the park-mom, dad, grandma, big sister and the 10 year old. The park was full of families enjoying the great weather and  fishing, having picnics, celebrating birthdays and playing, playing, playing.
The first thing I noticed was how much I was tuned into who else was at the park and what they were doing. One eye was always on the grandson playing on the slides and other playground equipment, while the other was on the world around us. Then I realized that my daughter and son-in-law were doing the same thing. You see, they too went through the Protecting God's Children® program.
There were specific things we took note of when we arrived by simply looking around, such as:
Other families with small children and whether or not they were monitoring their children
Adults alone in the area, including what they were doing (reading, fishing, etc.)
People sitting in cars alone just watching the rest of the world at play
Animals in the area, that were on a leash or off
Kids flying kites and running / playing near wooded areas or buildings in the park, and the people near them
Nearby attractions that were closed for the day
Buildings that were open and others that were locked up
It occurred to me that this was no different than getting my bearings at an event or gathering of adults. If I were attending any event I would usually stop inside the door and look around to see where things were, what was happening, who was there and what they were doing. It's just not something I thought to apply in this situation before.
It has been a long time since I was in a busy park with lots of different activities going on. Taking note of those things when we arrived made a huge difference in our experience of the time at the park. I knew where everything was and what was going on so I really could turn my attention to having fun with the grandchildren (and the grown up kids, too.) When a couple of young girls who were about three and 4 years old came over to join us, I already knew to whom they belonged and waved to the mom in case she was concerned. No worries, she was right behind them.
As parents and other responsible adults, taking care to notice these things at the beginning of any kind of summer adventure can save us a lot of upset in the future and preserve a wonderful time with the kids in our care. In my experience, because I took note of everything, I knew when the older couple loaded up their chairs and put their fishing tackle away and drove off. I was aware of the young man and the dog that finished their walk in the park and headed home. I noticed when the kids with the kite came back away from the trees and bushes to run and play. And I did all that while talking to my children and watching my grandchildren play. We had a great time on a lovely Sunday afternoon. Everyone in that park was safer because I had my eye on the whole of it. Imagine if everyone were on the same exact page.
All of us who have been trained through Protecting God's Children® for Adults can bring this level of responsibility and care to every event and location that includes children. Raising our level of awareness of what's happening around us creates a safe environment wherever we go. We all know to watch our own children. Even so, our responsibility is to all God's children, so stepping up our efforts to pay attention to all that is happening around us is a way to we can do that easily and effectively.
Editor's note: Please keep in mind that if you do have a concern about an individual or situation in the park, please do not hesitate to contact 911 or the local non-emergency line in your area. </em