Our Parish offers a variety of Adult Faith Enrichment opportunities!  An overview of these programs is listed below.  Information on current and upcoming opportunities are advertised in our weekly bulletin, the quarterly LIGHT, e-news, on our website and our Facebook page. If you have any questions please contact Deme Crinion at 937-401-0021 or dcrinion@stcharles-kettering.org
*The status of our programs will be updated here as we flex to meet the current health and safety guidelines
Bible Studies  New studies begin the week of September 15, 2021!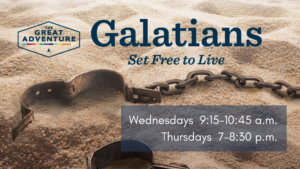 Join us on Wednesday mornings from 9:15-10:45am or Thursday evenings from 7-8:30pm as we dive into the book of Galatians!  We'll be doing Galatians: Set Free to Live, an 8-week study by Jeff Cavins.  Whether you're new to studying the Bible or anxious to get back to it, this study will reignite your love for God in light of his astonishing love for you as his son or daughter, explain how we can unite ourselves to Christ's redeeming sacrifice, and reveal a new way for us to live in freedom as Christians in this world.  For more information and to register, click HERE!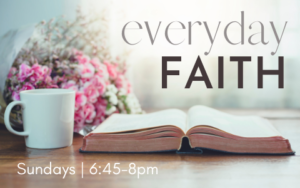 We'll also be offering a new weekly program called Everyday Faith. Each week, we'll dive into a new topic or aspect of our faith that we can apply to our daily lives right now! We'll introduce the topic with a short video/presentation, and then have plenty of time for discussion. The weekly topics for each month will be posted in the bulletin and online. This program meets Sunday evenings from 6:45–8 p.m. in the Borromeo Room. No registration is required, and childcare is available upon request.
Contact Deme Crinion at 937-401-0021 or dcrinion@stcharles-kettering.org for more info!
Retreats  We offer a number of retreats and Mornings of Reflection for men, women, and whole parish groups. Look for a our next Women's Retreat in January of '22 and our men's retreat on February 5, 2022!
MOMS Our Ministry Of Mothers Sharing (MOMS) group offers fellowship and growth in faith to our mothers of the parish.  Join us on Wed mornings for support, friendship, and reflection as we grow in faith together. Contact Francie Tobe at francie@tobe.name or 937-477-0691 for more information.
Faith and Light 
This is a monthly support group and faith formation program for adults with developmental disabilities and their families/friends. We meet the first Monday evening of each month from 6:30-8 p.m. in the Borromeo Room. Our gathering is informal, welcoming and everyone enjoys each other's company. We sing, talk about what is going on in our lives, relate Bible stories to our own experiences, make crafts and have delicious snacks. Please call Tim Clarke 937-673-5912 for more information or to get involved.
Adult Confirmation  Adults that have already been baptized and received their first Holy Communion, will have the opportunity to participate in a short half-day retreat followed by the Sacrament of Confirmation at the evening Mass the same day.  This is typically offered in the winter.  Contact Deme Crinion at dcrinion@stcharles-kettering.org or 937-401-0021 if interested.
Lenten Events  During the season of Lent we offer a parish-wide small faith group study that allows our parish to grow deeper in faith and fellowship within small group communities*. These are a wonderful opportunity to get to know other people and families within the parish, build relationships, and grown in faith through study, discussion, and prayer.  These typically span the full season of Lent.  We also offer weekly soup suppers and Stations of the Cross.  See our Lent page for details on all our Lent offerings!
Advent/Christmas Events  On the first Sunday of Advent families, friends, or individuals can create their own Advent wreath made of live evergreens at our Advent Wreath Workshop.  We provide all the supplies, greens, candles and a reflection booklet to be used throughout the Advent season.  Our parish also sponsors an annual Giving Tree during Advent. The gifts collected by the parish through this project go to organizations that directly bless families in need during the holiday season. We also host our annual Nativity Lights event – a drive-thru experience of the road to Bethlehem!  In this free event, cars drive through our campus and experience light displays, the town of Bethlehem, and of course, live scenes from that holy Christmas night.  In 2020 we started a 4-week Advent Video series to help us go deeper into the Advent season as a parish.
The Faith Formation Office has a variety of volunteer opportunities for those who wish to share their time and God-given talents. We would be happy to explore those opportunities with you!  937-434-9272