Sixth Grade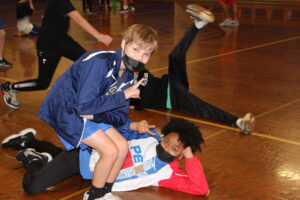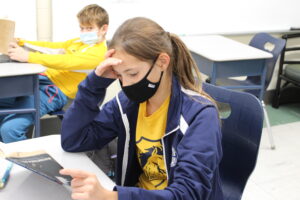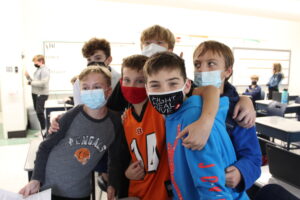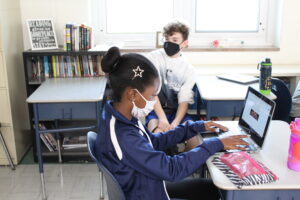 Click here for our Virtual tour!
St. Charles School School creates a world of learning that emphasizes development in the Catholic Faith, academic excellence and diverse co-curricular and extra-curricular activities. The way in which St. Charles School meets the individual needs of your child is unlike any other. Academic excellence continues in sixth grade, growing from all the work learned in previous years.
Curriculum
At St. Charles School, your sixth grade student will receive superior academic instruction that touches the mind, body and spirit.
In math, the focus is on helping students become fluent in math vocabulary and reflect on math patterns and processes, through hands-on projects and cross-curricular activities.
In Reading, Students read a variety of fictional and nonfictional texts throughout the year that peak a variety of students' interests. Our focus when reading the literature is to dissect each piece in order for students to think about the literature more critically. Many projects and activities foster student creativity and higher level thinking. Also, in sixth grade, students acquire a lot of new vocabulary throughout the year with a Greek and Latin root word study.
In science, the students dissect frogs and participate in the annual science expo.
Sixth graders celebrate the arts by joining the band, show choir, Mass music ministry and creating art pieces for our art show.
Our weekly curriculum also includes art, music, computers, library, physical education and Spanish. Spanish is taught twice a week with our sixth graders and everyday for seventh and eighth grade students.  In seventh and eighth combined students may test out of Spanish One and move forward to Spanish Two in High School. Mrs. Sandra O'Gorman teachers Spanish to all students in grades Kindergarten through Eighth Grade.  To contact Mrs. O'Gorman click here.
Catholic Faith
In sixth grade, students build on their knowledge of God through the study of the Old Testament. They have incredibly memorable lessons during "plague week" and prepare puppet shows for the younger students, demonstrating understanding of the Bible. Each year we produce a living Way of the Cross for the parish. There are numerous service learning projects.
Mrs. Becky Mueller- English  Email Mrs. Mueller
Mrs. Erica Prather- English  Email Mrs. Prather
Mr. Deme Crinion- Religion  Email Mrs. Crinion
Mr. Chris Bigelow- Science
Email Mr. Bigelow
Mr. Jeremy Samudio- Social Studies
Email Mr. Samudio
Mrs. Emily Issenmann-English
Email Mrs. Issenmann
Mrs. Jodi Boeddeker- Math
Email Mrs. Boeddeker