Family Events
Summer Bible Camp: Established in 1995, Bible Camp is always the third week of June. Preschool through sixth grade, teen helpers, and childcare for volunteers are available.
Advent Wreath Workshop: Typically the weekend before Advent begins. Come and build a living wreath for your home; reflection booklet and breakfast included.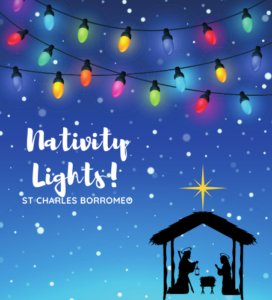 Nativity Lights: On Dec 20 our campus will be transformed for a special drive-thru event! Grab a hot drink, load up the car and take in the wonder of lights and live scenes as you travel the road to Bethlehem towards the long awaited Nativity!  St Nick will be there with his candy canes and we'll have a scavenger hunt with lots of things for you to look for along the way….including a special project from our St Charles school classrooms!